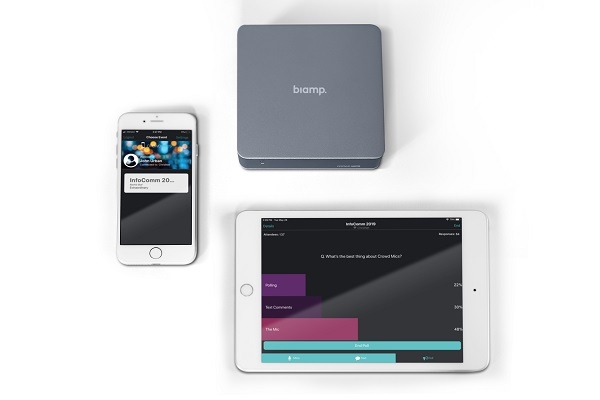 Biamp has announced a series of enhancements to its Crowd Mics audience engagement solution, including user interface improvements, new poll graph types, customisation options, and a new way to experience the moderator application.
Crowd Mics transforms every smart phone and tablet into a personal microphone and interactive response system via a free app. Users can ask questions through speech or by texting the question to the moderator. The solution removes the need to pass handheld microphones around a room, and creates a dynamic, audience-centred interactive event.
The moderator's device receives a notification of a request to speak, and the audience member receives a personal notification when it is their turn to speak. The system also supports real-time polling.
Crowd Mics is hosted on a small hardware appliance, the ATOM, which supports up to 1,000 event participants and connects directly to the room's audio system via USB or balance audio outputs. It also includes the option to present video via HDMI, providing moderators with full access to the event's participation log.
Biamp executive vice president for corporate development Joe Andrulis says that up to now, there were limited and generally unsatisfying options for contributing or participating at public events.
"Crowd Mics changes all that. The easy-to-use system connects the audience to the presenters using something they know and love: their own smart phone or tablet. The new features we are announcing and demonstrating build on the outstanding functionality of the original system, adding great usability enhancements for presenters and attendees."
The post Biamp enhances Crowd Mics appeared first on Connected Magazine.