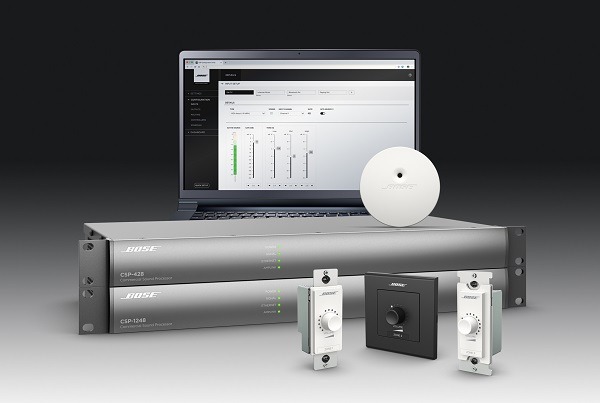 Bose Professional has added two new ControlSpace Commercial Sound Processors and three digital wall controllers to its comprehensive collection that helps installers to deliver premium sound systems.
The CSP-1248 and the CSP-428 include an onboard CSP configuration utility and intuitive browser-based UI. This allows for quick setup with tasks presented in a logical manner.
They offer a mix of inputs and outputs, including balanced analogue I/O and mono-summed RCA inputs, as well as control inputs, control outputs, and a mute contact. The CSPs also use AmpLink and a rear-panel Ethernet port that connects to optional ControlCentre digital zone controllers and the ControlSpace Remote app.
Opti-source level management monitors the input level of up to four sources, maintaining consistent volume between them, while DynamicEQ processing expands performance and response at any listening level.
When combined with the Bose AVM-1 sense microphone, AutoVolume adapts output level based on the ambient noise of an active space.
Bose has also released three new user-friendly digital wall controllers – the CC-1D, CC-2D, and CC-3D.
The CC-2D and CC-3D models have a push-button rotary encoder to allow for A/B or A/B/C/D source selection. In addition to the new digital wall controllers, the new CSP and ESP processors are supported by ControlSpace Remote, allowing customized control panels to be built and deployed to end users for wireless control of their systems from mobile phones, tablets or laptops.
The post Bose adds processors and controllers to collection appeared first on Connected Magazine.