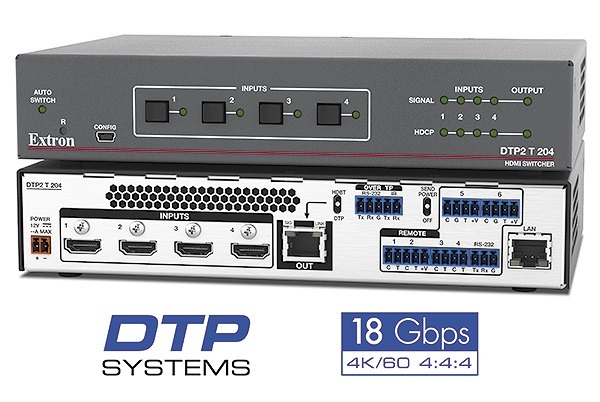 Extron introduces the new DTP2 T 204 which supports computer and video resolutions up to 4K/60 at 4:4:4 chroma sampling. The four-input switcher has an integrated DTP2 transmitter for sending HDMI and control up to 100m over a shielded CatX cable to an Extron DTP-enabled product.
This HDCP 2.2-compliant switcher includes many integrator-friendly features, such as EDID Minder, Key Minder and selectable HDCP authorisation. Ethernet control enables centralised system management.
Extron vice president of worldwide sales and marketing Casey Hall says, "We designed the DTP2 T 204 to be flexible and robust, with true 4K/60 switching capability plus long-distance signal transmission."
"With four HDMI inputs, auto-input switching and Ethernet capabilities, it has the versatility to be the central switcher for meeting and classroom AV installations, as well as being integral to larger DTP systems."
It provides routing of HDMI, HDR, Deep Colour up to 12-bit, 3D and embedded HD lossless audio formats.
The new product is also compatible with other DTP2-enabled products such as being remotely powered over the twisted pair connection and can provide power to the connected DTP2 receiver product.
DDC communication of EDID and HDCP is continuously maintained between source and display to ensure direct compatibility and optimal signal transmission between devices.
The post Extron introduces new four input 4K/60 4:4:4 HDCP 2.2 switcher with integrated DTP2 transmitter appeared first on Connected Magazine.