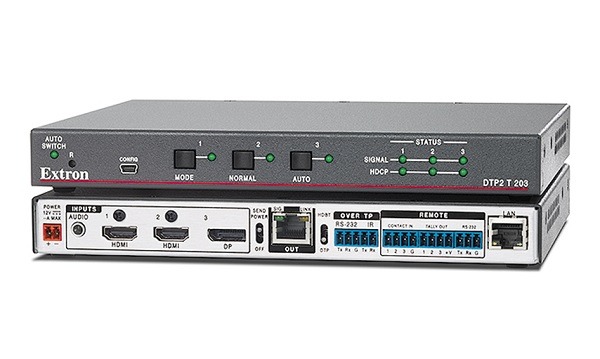 Extron has released a new three-input switcher with integrated DTP2 transmitter.
The DTP2 T 203 facilitates the sending of DisplayPort, HDMI, audio, and control up to 100 meters over a shielded CATx cable to an Extron DTP-enabled product, as well as supporting video signals at resolutions up to 4K/60 at 4:4:4 chroma sampling.
The switcher includes EDID Minder, auto-switching between inputs, audio embedding, and Ethernet remote control and bidirectional RS 232 and IR pass-through for remote AV device control. IT also features contact closure, tally, and RS-232 ports for easy integration with a control system.
Extron vice president of worldwide sales and marketing Casey Hall says: "The DTP2 T 203 brings 4K/60 4:4:4 switching and extension to the conference table. It is ideal for point-to-point applications or sub-switching into our all new IN1808 Seamless Presentation Switchers."
The post Extron switcher ideal for point-to-point applications appeared first on Connected Magazine.