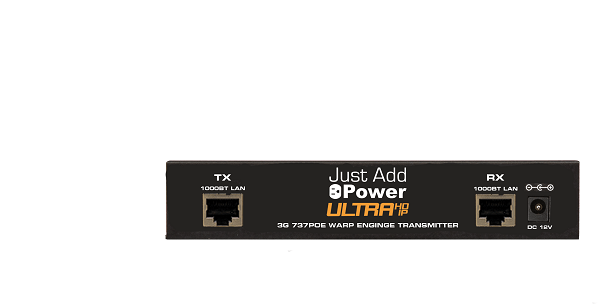 Just Add Power (J+P) has unveiled its technology line-up for the CEDIA Expo in Denver.
The company will highlight its solutions for multi room video installations in the residential market including the 3G+ 767DSS Dante Enhanced Sound System transmitter and the Warp Engine transmitter/receiver, Instant Install application and slim two-gang HDMI wall plate.
The 767DSS transmitter allows installers to input up to eight audio channels from the J+P system for play-out on Dante-enabled and AES67 devices and extract up to eight channels from the audio network across the J+P system. It is backward compatible with legacy two-channel Dante and AES67 devices while offering higher performance with lower compression.
The new Warp Engine allows for rotation of any HDMI source in a J+P matrix in 0.1-degree increments in real time for incredibly low latency. It can then be sent to an unlimited number of receivers in the network.
The Instant Install application allows installers to easily incorporate any gigabit switch that supports jumbo frames into their J+P matrix – they simply connect on the switch and click a single button to find and configure said devices.
Finally, the new two-gang HDMI wall plate is less than an inch deep allowing for flexibility in terms of installation location.
J+P sales team manager Taft Stricklin says: "Our 767DSS transmitter adds compatibility with Dante and AES67 audio networks, while the Warp Engine allows installers to get creative with their video walls by mounting displays at any angle. In addition, the Instant Install application takes all the guesswork out of any project — integrators who have seen it in action have been floored by its speed and reliability — while our new HDMI wall plate offers a slim design for installation flexibility."
The post Just Add Power unveils CEDIA line-up appeared first on Connected Magazine.