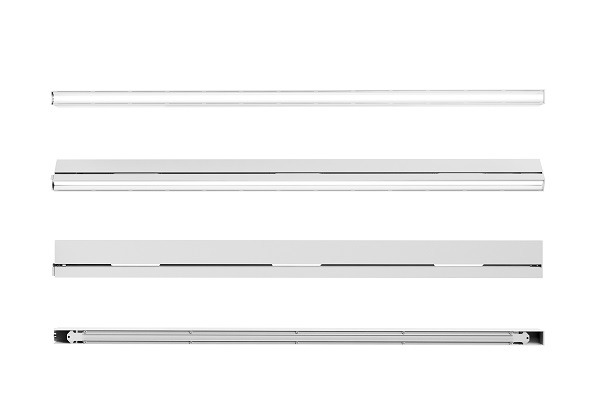 K-Array has combined its audio and lighting technology in the form of the Rail, a 1.2m line of homogeneous linear LED lights with full-range cone driver.
The Rail comes in a variety of combinations in order to adapt to a wide range of applications. It offers a selection of different light distributions including symmetric, asymmetrical, mini spot, and electrified track.
All Rail options come with three sets of 1×5" glass fibre audio transducers. The full speakers mean there is no need for subwoofers.
A total of 12 Rail units can be driven by one channel of four-channel Kommander-KA02, meaning the amp can power 48 Rails in total. The KA02 includes Bluetooth connectivity, USB ports and mini jack input. The Rail is also compatible with bigger Kommander amps and its subwoofer lines if more powerful sound is required.
Rail models are driven at 24V and have full control with DALI-included versions. They can be mounted in a variety of ways, with corner Rails and T-models available for complete system setup.
The post K-Array share light and sound with Rail appeared first on Connected Magazine.