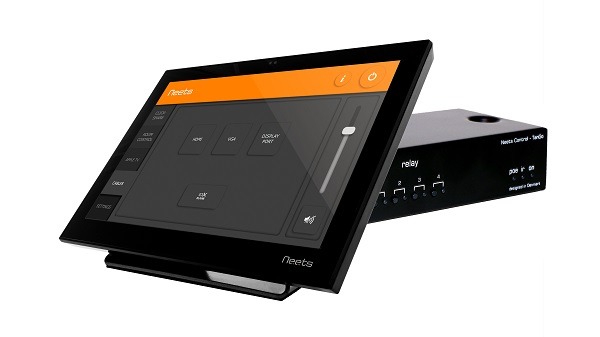 A new, simple and cost-effective system, suitable for control of a single room, or small collection of rooms, is available from distributor Amber Technology.
Danish AV manufacturer Neets has a wide range of products that are compact, easy to install and program, and easy to use.
The product portfolio includes the QueBec family, control systems with no user-operated buttons. The systems sense a connected computer and issue commands, such as to turn on a projector and lower a screen.
Wall-mounted systems include: OsCar, EcHo, SieRRa, and the UniForm, all of which offer various control options including Ethernet, RS-232, GPIO, IR and GUI (SieRRA only). The rack-mount systems: AlFa II, LiMa and TanGo can be paired with 4", 7" or 10" wall or table-mounted touch panels.
All products are programmed using Neets Project Designer software.
Neets has also released a number of other products including the Neets Soundbar SB1 that features output power of 4x20W directed to a pair of four-inch woofers, partnered with one-inch soft dome tweeters.
They also offer Collabo by Neets, a product that combines SB1's audio attributes with video hardware allowing a single USB cable to connect a camera, microphone, displays nad speaker to a user's computer for a unified communications application.
Finally, the Neets MiniConnect is an easy-to-install tabletop cable management solution that can be installed in new tables or retrofitted into existing set-ups.
The post Neets' nifty control system appeared first on Connected Magazine.