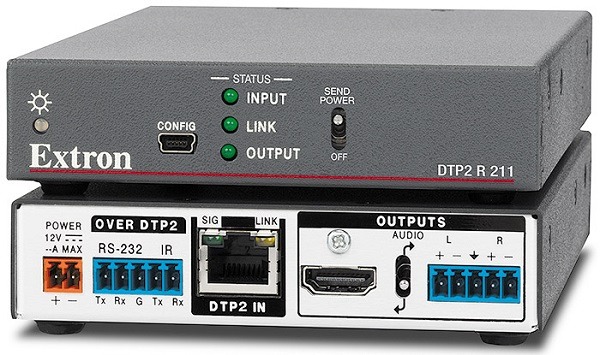 Extron has released its new HDMI receiver, the DTP2 R 211.
Available now, the receiver supports transmission of HDMI and multichannel audio as well as bi-directional RS-232 and IR signals up to 100 meters over a shielded CATx cable. It accommodates the full 18 Gbps data rate of HDMI 2.0b and supports video resolutions up to 4K/60 at 4:4:4 colour sampling.
HDMI audio is available as a balanced or unbalanced analogue stereo signal, with output in de-embedded or pass-through analogue audio.
It can be integrated with an Extron IN1800 Series Seamless Switcher or another DTP-enabled product to support displays and other output devices at remote locations.
Extron vice president of worldwide sales and marketing Casey Hall says: "DTP2 incorporates the latest technologies to address continued advancements of digital video signalling and resolutions, as well as provides the enhanced audio capabilities that our customers have requested. The DTP2 R 211 enables versatile AV designs while delivering the performance, reliability, and economical approach provided by DTP Systems."
The post New Extron receiver delivers enhanced quality appeared first on Connected Magazine.