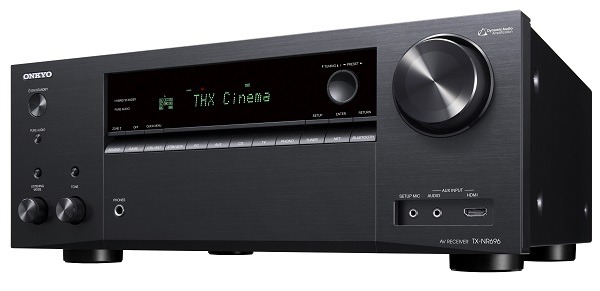 Onkyo has unveiled its new 7.2 channel TX-NR696 Network AV Receiver, assuring restitution true to original recordings with cinema-quality sound.
It adapts to any entertainment style and a range of speaker configurations. Using Dolby Atmos Height Virtualiser and DTS Virtual:X, it can create a 3D sound-field from an existing speaker system.
The TX-NR696 also features Next Generation Network Audio, a versatile multi-service platform for smooth multi-room audio using various music services. It can stream to Sonos Home Sound Systems by pairing to Sonos Connect.
It can also play music through Chromecast built-in and Bluetooth, with voice control via a Google Assistant enabled device. A DSP-controlled Vocal Enhancer function offers five-step adjustment of vocal frequencies to alleviate the common problem of inaudible dialogue while watching videos.
Front and centre channels include a second power transistor added to the amplifier output stages, doubling current-handling capabilities. New Zone2/ZoneB outputs bring amped multi-source audio to two rooms with flexible new zone line-out/front L/R pre-out terminals.
It also features a revitalised DAA system, 4K/60p/HDR HDMI terminals, and many other extras.
The post New Onkyo receiver offers cinema-quality sound appeared first on Connected Magazine.