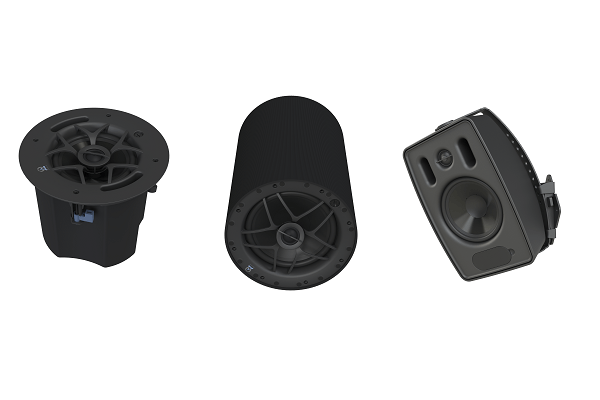 After working with residential loudspeaker solutions for some time, Origin Acoustics will debut its commercial loudspeaker collection. It will feature in-ceiling, pendant and surface-mounted speakers.
Each of the three styles of speakers will feature similar-sized woofer and tweeter compliments. The woofer polypropylene sizes of 5", 6.5" and 8" is matched by its dual plain stabilised diaphragm tweeters.
All three styles are UL 1480 listed, meaning they are suitable for installation into a commercial environment. The ceiling models feature a steel back can, front facing bass increasing reflex ports and a premium 70V transformer with 8-ohm bypass.
The pendants have a cylindrical styling which brings them in line with modern light fixtures and allows it to add a bass-increasing passive radiator at the rear. This has decreased the overall size of the enclosure while improving its low-end response.
The surface-mounted, on-wall product features the same tap, diver, and tweeter compliments as well as featuring a completely new patent-pending mounting system. This system allows for quick installation as well as two-axis positioning of the loudspeaker without changing the overall alignment of the loudspeaker.
These new Origin Acoustics commercial speakers can be found at the CEDIA Expo 2019.
The post Origin Acoustics debuts commercial loudspeaker collection at CEDIA appeared first on Connected Magazine.