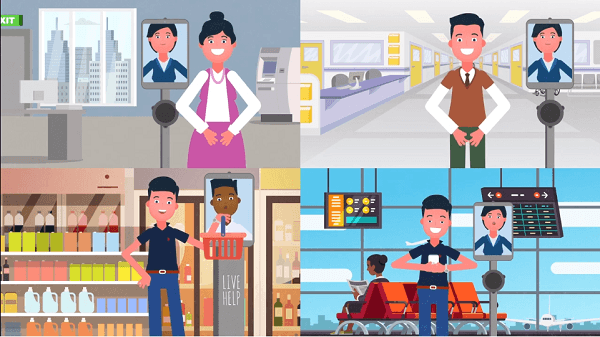 One of the most discussed products at this year's InfoComm exhibition was Teleportivity, one of the recipients of AV Technology's Best of Show Awards.
Liberty AV Solutions was recently named as US distributor for the company Teleportivity, which launched its product of the same name at the event. Teleportivity recognises that a 'one size fits all' approach to customer service does not work for everyone and began working on the new system.
Dubbed as a cloud-based software as a service (SAAS),  Teleportivity operates an instant live support system, a bespoke service designed to offer the perfect help, at the perfect place, and the perfect time.
It gives a company/organisation and its team the ability to have a physical presence across all of a company's locations, offering face-to-face interaction.
The system works in a number of ways.
By placing QR, NFC or web links in areas where visitors may need assistance, the person can then use their phone to scan the codes and access relevant information. Fixed touch screens can also be deployed to offer support in high-traffic customer areas.
Both personal device and fixed touch screens give companies the ability to deploy their workforce where it is needed most, at the click of a button.
Users can also contact a support staff member through live video conferencing who can provide suitable assistance and even, if required, "jump" to a smart phone screen if the user needs to be mobile to show them a problem in a different location.
Teleportivity prides itself on providing support across complex process systems, on the go or in fixed locations, with video technology allowing clients to make the best first impression with those seeking help from the system.
However, Teleportivity stresses that it is not simply another video conferencing product, but a platform designed to maximise one-to-one customer support, and seamlessly integrate with and complement existing systems. It can be set up and ready to print unique QR codes, NFC tags or web links in under 15 minutes.
It is suitable for a range of applications, including help desks, tech support, way finding, logistics support, as a reception or concierge, as a venue help desk, for device support or in car parks.
The post Teleportivity making waves in customer service appeared first on Connected Magazine.