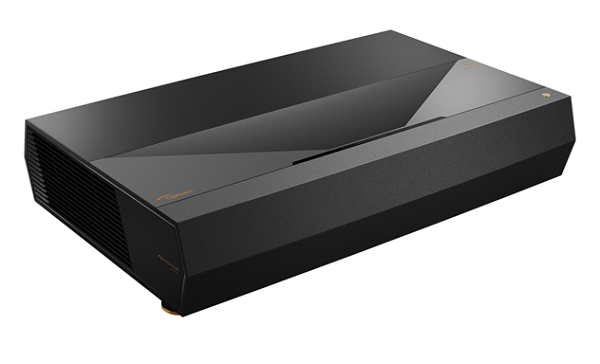 The ultra short-throw Optoma P1 Smart 4K UHD Laser Cinema projector combines the best advancements in AV technology to provide integrators with the best possible home-cinema experience. It streamlines the set-up process makes it much easier to transform living areas into cinema-like spaces.
It eliminates the need for any additional external speakers with an inbuilt NuForce sound bar with individual woofers, an aluminium full-range drivers and isolated speaker enclosures for low distortion. On top of that, it offers Dolby Digital Plus audio decoding capabilities and can play audio wirelessly from a smart phone or tablet.
By making use of an ultra short-throw distance, the projector delivers 4K ultra high definition (UHD) resolution plus a laser light source to deliver crystal-clear images without the need for additional installation mounts.
The latest Optoma Smart+ features include Amazon Alexa and Google Assistant voice controls as well as IFTTT support. With these features, users can easily access popular streaming services such as Netflix and YouTube.
4K UHD HDR with chip DLP 0.67 XPR X2 prevents misalignment and ensures the image is always projected onto the correct screen. Images projected can reach up to 120" in size at only 10" away from the screen.
Users can set up their favourite themes and ambience with the Optoma Connect App which lets them customise and create the desired home cinema experience.
The post The award-winning Optoma P1 Smart Projector transforms home entertainment appeared first on Connected Magazine.