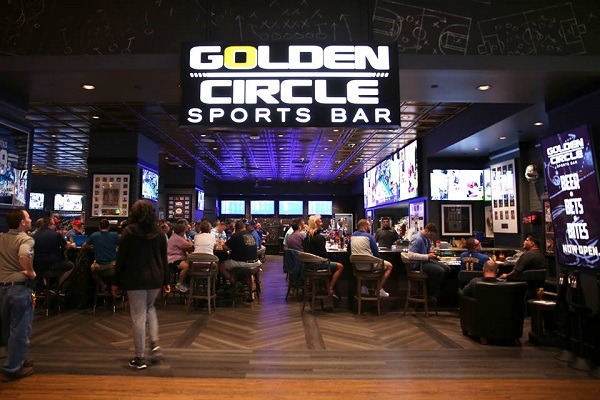 Treasure Island Casino held nothing back with the introduction of its new sports bar, The Golden Circle,  introducing a 61cm by 12.5cm, 1.8mm pixel pitch NanoLumens ENGAGE Series LED videowall. The centrepiece of its new sports bar has the ability to stream three separate 16:9 broadcasts at 720p and the ability to be split into 12 smaller screens.
Built around an IP-based backend system using a video wall tiling processor and Crestron 4K 2×2 processors, the system supplements the casino's existing audio system with DSP amplifiers from BSS and some additional Tannoy speakers and subwoofers.
Shane Snell of National Technology Associates (NTA), the firm that installed the bar's technology infrastructure, spoke on the ability of the NanoLumens.
"One of the most important factors of any casino technology installation is longevity," he says.
"For the most part, owners try to keep infrastructure relevant for as long as possible, only renovating rooms when truly necessary. That's why NanoLumens' cutting-edge and patented LED technology was such a great choice here, bringing customers something they can't get at home.
"It was important to use one of NanoLumens' finest pitches, 1.8mm, to deliver HD quality across each windowed section. It was the perfect size to enable each window to display 720p content."
As with most casinos, TV screens usually stay on for all hours of the day, seven days a week. As a strong indication of its durability, the NanoLumens display includes a six-year warranty.
"NanoLumens can even send field installation supervisors to help ensure the install team gets everything exactly right. Between that level of service and the long warranty, NanoLumens' customer support is second to none," Shane says.
"The display's excellent off-angle viewing was a big need as well, since we wanted it to be visible from as many seats as possible. At this point, I think it's the nicest display they have on the entire property."
NanoLumens regional sales manager Kara Green said that the NanoLumens LED will not only impress its own customers but draw customers from competing casinos.
"Not only is The Golden Circle's display capable of running 24 hours a day for years, it's also bright and sharp enough to be seen from the adjacent casino floor, creating a draw that brings more customers into the bar," Kara says.
Every seat in the house will be able to view sports, racing and live TV with the highest possible quality. It's coming at a perfect time as the Vegas Golden Nights NHL expansion club is set to chase its first Stanley Cup.
The post Vegas' Treasure Island boasts 24" wide NanoLumens LED Display appeared first on Connected Magazine.