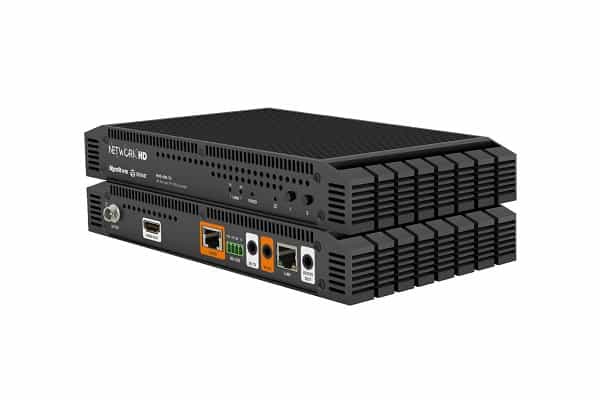 WyreStorm has released its NetworkHD 600 Series 4K HDR over 10GbE using SDVoE technology.
WyreStorm's multi-platform NetworkHD offers pro AV and custom install integrators a choice of three separate AV over IP technologies allowing the installer to select the solution that best fits their specific application.
Adding to its low bandwidth NetworkHD 100 Series HD over 1GbE using H.264 and video wall and multiview-supporting 200 Series, and the low latency 400 Series 4K HDR over 1GbE with JPEG2000, the 600 Series adds major enhancements with features for both commercial and residential applications.
"As the flagship solution in the WyreStorm's extensive NetworkHD product line, the 600 Series brings the best picture quality and the lowest latency to the market.  With support for 4K/60 with HDR and SDVoE-powering a 10GbE network to eliminate compression artifacts, the quality is highest available.  The benefits of this are not only felt in specialist or mission critical applications, such as medical, visualization, and large -source monitoring in command and control applications, but also boardrooms, where real time images can be displayed with no image lag," says WyreStorm director of Technology David Silverstein.
"Its extensive feature set means the 600 Series isn't only limited to commercial applications either. Full compatibility with the latest consumer source and display devices, multichannel audio, and in-built 4K/2K scaling means discerning homeowners can now also have the highest picture and audio quality in every room.  And all this with the incredible scalability and linear cost-increase benefits of a truly modular NetworkHD system.
"Because the technology matters, WyreStorm solutions make sure you have the right product for the right application, making every AV project a success."
600 Series – The next generation of AVoIP
The standardised hardware/software platform of SDVoE provides the firepower for the 600 Series. The delivery of lossless, zero latency seamless switching of 4K/60Hz and HDR using RGB or YUV, along with audio, control, scaling, processing, encoding, and encryption, over 10Gb IP network.
4K video is supported up to 4096×2160 60Hz at 4:4:4 8bit or 4:2:2 12bit HDR-10 over both HDMI and DisplayPort, with Dolby Vision to be supported by the end of the year.
600 Series encoders and decoders are HDCP v2.2 compliant and feature auto-switch or software selectable input ports, with EDID capture and assign.  Plethora Engine video scaling, re-timing and colour space conversion, along with routing enabling stream breakaway for video, audio and control add to the feature set.
HDMI audio is supported up to any known format (Genlock), as is multichannel audio up to Dolby Atmos and DTS:X, and Dolby/DTS High Definition codecs for breakaway/routing.  The 600 also supports audio embedding and de-embedding on encoder and decoder with DAC/ADC functionality, 8ch PCM audio downmix, and the creation of independent audio distribution through analog ports.
When it comes to control, both 600 Series encoders and decoders feature integrated 1GbE pass-through linked to the main switch, with bidirectional, routable RS-232 UART and bidirectional RS-232 interface with API/driver.  IR input on encoders and decoders are also fully routable, with IR output generation and IR input forwarding to the API set to be supported in a Q2/Q3 2018 firmware update.
The firmware update will also see support for video walls up to 5×5, with bezel compensation and independent audio routing, and powerful multiview functionality, supporting up 32 input streams, available in arbitrary layouts and able to be rescaled, resized, offset and multiplied.
Almost any Layer 2+ or Layer 3 managed switch can be used with NetworkHD 600 Series for single switch deployments.  And for handling trickier multicast traffic, WyreStorm have created specific guides for supported switch brands, listing specific ranges, models and firmware versions required for a successful installation.  Netgear ProSAFE, M and XSM Series and Ruckus ICX 7700 Series switches are supported on release, with Cisco, Niveo and multiple switch configurations targeted for support shortly thereafter.
As with all NetworkHD Series solutions, the 600 Series uses the same NHD-000-CTL controller, shares the same universal API and software environment, the same network switch setup, and the same suite of WyreStorm-supplied free 3rd party drivers.
As an essential part of the NetworkHD family offering, this unified install and user experience benefits from a very small learning curve, requiring little training and minimal effect on support functions.  This enables integrators to migrate easily between all NHD Series solutions – so if they've installed the NetworkHD 100 or 200 Series, they can install the 400 or 600 Series – and vice versa.
Corporate
In corporate sectors, the powerful capabilities of the 600 Series make it ideal for research and medical facilities for visual analysis, mission-critical visuals and training and high-end boardrooms and meeting rooms for Multiview.
Design and media applications are equally applicable, such as graphic/technical design, including printing and photographics, video game development for render playback, huddle gaming, video/film production for use in viewing rooms and render playback, and media broadcast for video distribution.
Government
Government applications include courtrooms and building for high quality content viewing of evidence, medical, research and development, and law enforcement. 600 Series features, such as AES128 encryption on media streams, no missing image quality, extension to multiple buildings via fibre and passive chassis reducing risk of mechanical fatigue.
RTOC
The 600 Series' powerful video wall and multiview support of up to 32 sources in arbitrary layout combinations, including re-scale, resize, offset and multiply, make it ideal for dispatch and large source monitoring in law enforcement, emergency services and security, as well as video broadcast control rooms.
Live events/houses of worship
Multiview combined with video quality and zero latency also make the 600 Series perfect for live events/performances/presentations and House of Worship applications, where support for live cameras, lyrics, emotive imagery, key statements and on-screen text, and video playback are all required.
At home in the home
Its extensive feature set means the 600 Series isn't only limited to commercial applications either. Full compatibility with the latest consumer source and display devices means discerning homeowners can now also have the highest picture and audio quality in every room.
In addition to its obligatory multichannel audio support, the 600 also features true breakaway for audio in any zone, while also removing concurrent multichannel and stereo issues.
NetworkHD 600 Series encoders and decoders are available from mid-April 2018, with dedicated NHD-000-RACK 7U 8-slot rack mount available from May 2018.
The post WyreStorm launches NetworkHD 600 Series appeared first on Connected Magazine.