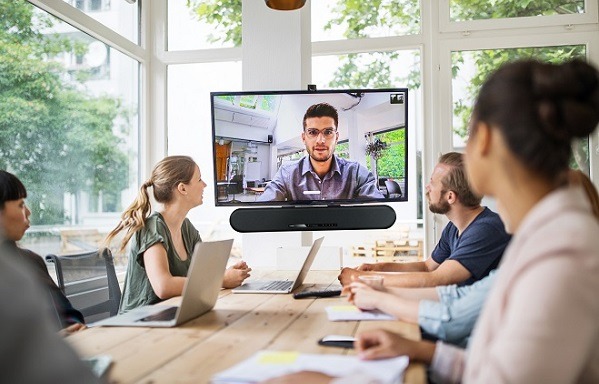 Yamaha's ESB-1080 Enterprise Sound Bar and Collaboration Kit is now shipping having previously only been available in North America.
The kit includes an AI wide-angle USB camera from Huddly with the ESB-1080 Enterprise Sound Bar.
The sound bar uses two built-in subwoofers, a bass-reflex port, two dome tweeters, and two woofers to provide a clear, dynamic speaker output for conference rooms. Its conference mode preset is tailored for easy administration and its versatile mounting options make it ideal for various enterprise needs and designs.
The Huddly camera provides 150-degree wide-angle 1080p video, an embedded mic array, automated AI features, and the Huddly InSights analytics API, as well as Genius Framing through which the camera can detect and frame participants in its field of view, thus eliminating the need for manual control of the camera.
Yamaha Unified Communications vice president of global sales and marketing Michael Fitch says that in the future the keys to successful collaboration will be the clearest possible audio and flawless video that responds intelligently to those in the room.
"With our new sound bar, we've made it incredibly easy to achieve the great, uncompromised audio that every meeting hinges upon. By bundling that with a video camera brought by experts in AI, we eliminated the complicated purchase, deployment, and operation process so organisations can achieve their unified collaboration strategy faster and more cost effectively."
The post Yamaha offers complete collaboration kit appeared first on Connected Magazine.